Jaap van der veen / Teylers museum prize for the contemporary art medal
Initiated by Jaap van der Veen and Teylers Museum (Haarlem, The Netherlands) the prize is to encourage artists who have created a number of medals and whose work is a promise for the future.
The prize is to be awarded once every five years, starting on 11 February 2012, the 65th birthday of Jaap van der Veen. The prize contains €10,000, a presentation of the winner's work in Teylers Museum and a publication.
The 2012 year's jury consisted of Jaap van der Veen, Philip Attwood (Keeper of the Department of Coins and Medals, British Museum), Elly Balthus (Dutch artist and winner of the FIDEM Grand Prize 2010) and Jan Pelsdonk and Marjan Scharloo (Teylers Museum).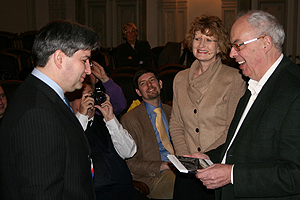 The 2012 year's prize was awarded to the Czech artist Otakar Dušek (b. 1974). The prize and a publication were presented to the winner during the opening of a presentation of Mr Dušek's work in Teylers Museum. The exhibition is opened until 9 September 2012.
Otakar Dušek is a medallic artist working in the Czech Republic. His work is characterized by his continuous quest for new solutions and principles, both artistic and technological. It is based on the strict rejection of conventional solutions in medal design and this is what distinguishes him from the official contemporary stream. The artist finances all his projects with his own resources, allowing him
complete creative freedom in his work. Mr Dušek was awarded in 2004 with the Prize for creative struck medal and / or technically innovative medal during the FIDEM congress in Seixal (Portugal).