medal identifications
BENVENUTO CELLINI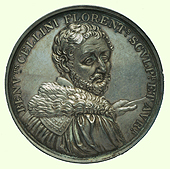 This is a uniface medal in silver (51 mm). The medallist is T(homas) W(ells) INGRAM, signed below the bust of Cellini. The legend reads  BENVts CELLINI FLORENTs SCVLPr ET AVRr. I have no other details, nor can I find any reference in the literature. I have asked a range of numismatists, including the leading medal dealers in the UK, but without success. Any information would be appreciated. (For enlargment, click on the medal).
Please write to Professor Walter R Bloom, Honorary Associate (Numismatics), Department of Maritime Archaeology, Western Australian Maritime Museum, Fremantle, WA 6160 (Australia) or
e-mail: walter.bloom@museum.wa.gov.au
---
PROFESSOR BANISTER FLETCHER MEDAL
In 1900 the Architectural Association, London established a travel bursary for the promotion of the study of London architecture of the last two centuries since the Fire. The award was made to the architectural student submitting the best selection of measured drawings together with a short report of the buildings to which they referred. The bursary was accompanied by a silver medal (64 mm). The known bursary recipients are:

1900: Arthur James Stratton ARIBA (1872-1955)
1901: T Frank Green FRIBA
1902: Sir Albert Edward Richardson FRIBA (1880-1964)
1903: James Gillespie LRIBA (1879-?)
1904: Francis James Watson-Hart FRIBA (1880-1953)
1905: Percy Hubert Keys (1881-1954)
1906: Cecil Ross Pinsent ARIBA (1884-1963)
1908: W J Jones
1909: W J Durnford FRIBA
1910: B F Mathews
1911: J Hausford White
1912: Verner Owen Rees FRIBA (1886-1966)

The 1900 medal is held by the British Museum, the 1905 medal is privately held. The whereabouts of the remaining medals, together with any further information, would be welcome. (For enlargment, click on the medal).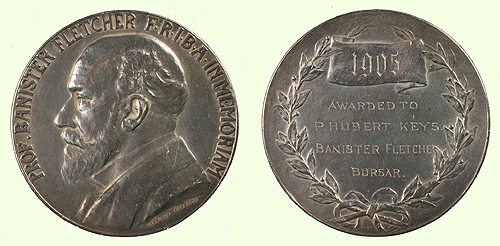 Please write to Professor Walter R Bloom, Honorary Associate (Numismatics), Department of Maritime Archaeology, Western Australian Maritime Museum, Fremantle, WA 6160 (Australia) or
e-mail: walter.bloom@museum.wa.gov.au