student projects
''MUSIC ASSOCIATIONS-MEDAL INTERPRETATIONS''
17th INTERNATIONAL MEDALLIC PROJECT 2022 - bulgaria

We all need to maintain our creative fire, especially now in this troubled time. So we focused on musical themes that will help to overcome the growing anxiety and get out of the crisis with more professional experience and new creative results.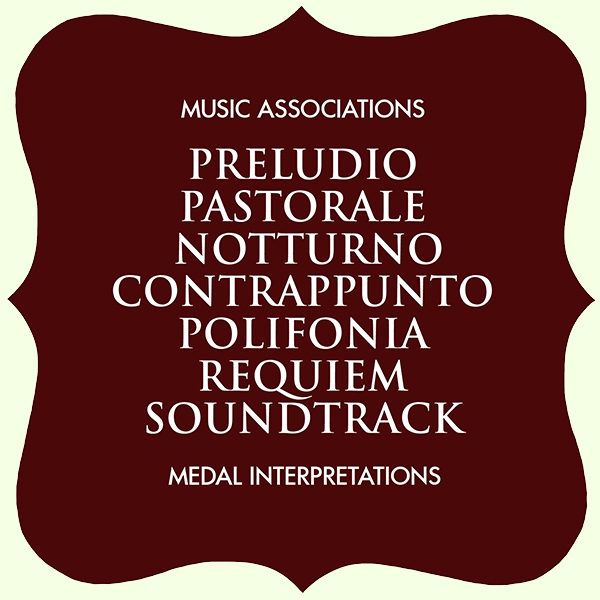 New series of virtual medal exhibitions at the medal studio at the National Academy of Arts in Sofia. This year's medal show includes 7 popular musical terms that participants will interpret: PRELUDIO, PASTORALE, NOTTURNO, CONTRAPPUNTO, POLIFONIA, REQUIEM, SOUNDTRACK. The seven sessions will be presented as before in February, March, April, May, as well as October, November and December.
To participate you need to send a photo of your work (not previously submitted to this project) with a resolution of 300 dpi no later than the 15th day of each exhibition month.
Medallic Sculpture Studio
E-mail: medalstudiosofia@gmail.com
Prof. Bogomil Nikolov
Assist. Prof. PhD Ventsislav Shishkov
---
INTERNATIONAL MEDALLIC PROJECT 2022 - Poland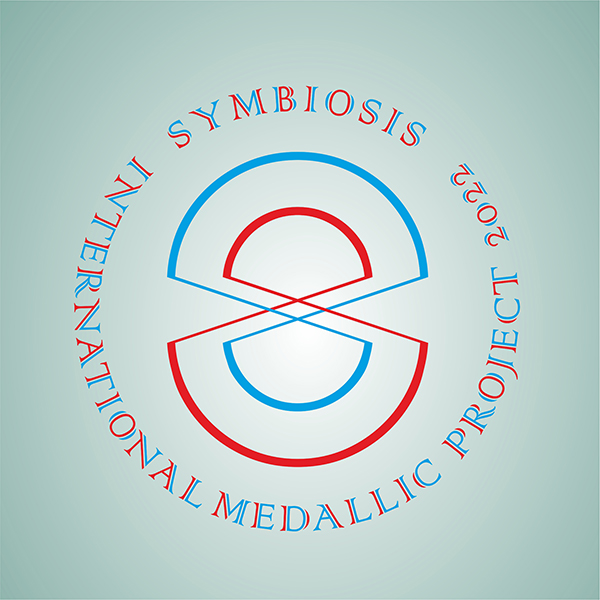 The 14th edition of international medal project called Symbiosis is a continuationis of previous international projects entitled: Transformation in 2021, Future for Nature in 2020, Borders in 2019, Faith in 2018, Identity in 2017, Civilization in 2016, Heritage in 2015, Bonds in 2014, Freedom in 2013, Signs of the time in 2012, Home in 2011, Time in 2010 and Dialogue in 2009. It was addressed to fine arts universities and colleges all over the world, where the contemporary medallic art is being taught and which were interested in taking part in the project. Finally 14 universities' studios from 10 countries gathered to participate in it and these are from: Bulgaria, Croatia, Japan, Spain,  Lithuania, Latvia, Portugal, Poland and a group of artists: Mashiko group Medialia ... Rack and Hamper Gallery, USA. Altogether 157 people exchanged their artistic experiences and thoughts about "Symbiosis" subject and its interpretations. The whole project shows the vast diversity in perceiving tendencies and development of contemporary medallic art, from formal perspective and widely understood creation in usage of different materials.
This project allows to broadly exchange various experiences in contemporary medallic art from centres in all over the world. It also demonstrates how precious and valuable is the mutual cooperation and the experience gained from it.
The project coordinators of this year's edition are Professor Sebastian Mikołajczak from Faculty of Fine Arts, Nicolaus Copernicus University in Toruń, Poland and  Assistant Professor Shinji Miyasaka from Faculty of Art and Design of the University of Tsukuba, Japan.
The second stage of this year's project is an exhibition in Oyama Town, Japan. The exhibition is curated by Assistant Professor Shinji Miyasaka.
An exhibition will be held in Japan at the end of November 2022.
I am very glad that this year's project was successfully implemented despite COVID-19 pandemic and the uncertain situation all over the world. 
I want to thank all of you for taking part in our project and the effort you have put in it. I hope it will result in further cooperation between the universities and next projects.
Project coordinator Professor Sebastian Mikołajczak
---
"Homage to ..." INTERNATIONAL MEDALLIC PROJECT 2021 - bulgaria
This year the medal studio dedicates its traditional project to 7 celebrities who have worked in different eras and in different fields of culture and arts: Homer, Leonardo, Shakespeare, Beethoven, Picasso, Chaplin, and Marquez. The stature of all these personalities turns the event into an "Infinite Feast" of inspiration.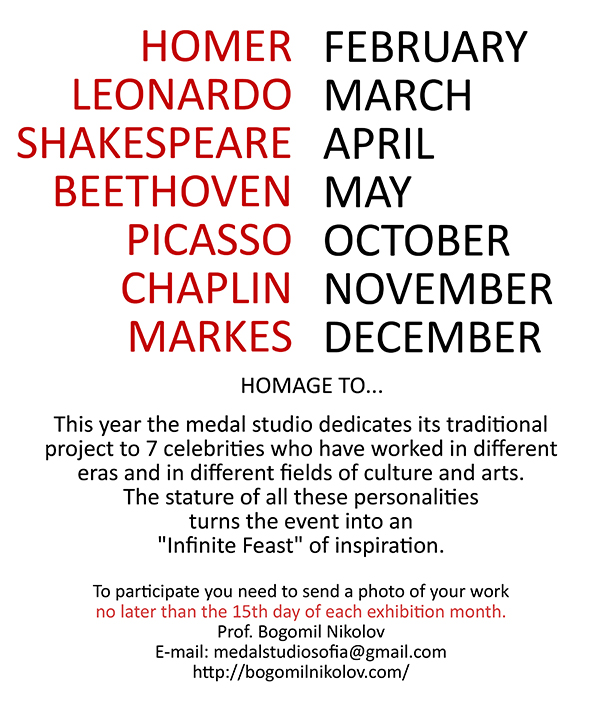 The Medal Sculpture Studio at the Metal Department of the National Academy of Arts in Sofia continues to organize the annual virtual medal project, now in its 16th edition. Shows are held in February, March, April, May, October, November and December. This project is intended for students of the Medal Sculpture Studio, but it is also open to students and teachers from other art schools, as well as freelance artists. The creative communication between the participants provides a unique opportunity to acquaint students with different world trends, concepts and styles and contributes to the promotion of medal art.
For the past 15 years, 105 virtual exhibitions have been organized, at which about 3,800 medals have been presented.In addition to the regular participation of artists from Bulgaria, Portugal, USA, Hungary, Slovakia, Russia, Latvia, The Netherlands, UK, Poland and Spain, we have been joined by artists from Afghanistan, Turkey, Iraq, Japan, China, Australia, New Zealand and others.
To participate you need to send a photo of your work (not previously submitted to this project) with a resolution of 300 dpi no later than the 15th day of each exhibition month.
Medal Sculpture Studio
Prof. Bogomil Nikolov
E-mail: medalstudiosofia@gmail.com
Assist. Prof. Ventsislav Shishkov
E-mail: venci.shishkov@abv.bg
---

"The Medal - This is me" INTERNATIONAL MEDALLIC PROJECT 2020 - bulgaria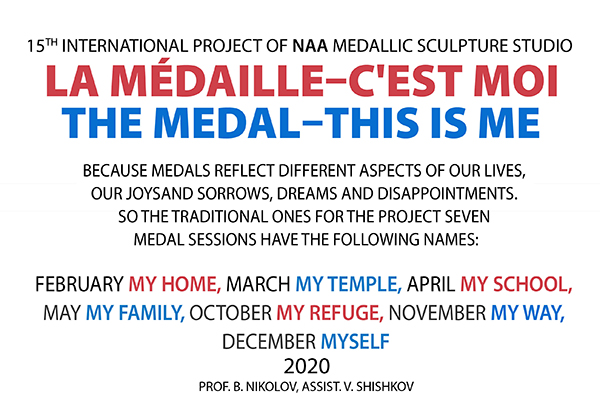 THE MEDAL - THIS IS ME because medals reflect different aspects of our lives, our joys and sorrows, dreams and disappointments. The seven medal sessions were: