student projects
Art medal training classes for homeless children - Iranian Art Medal Group - Iran
The Iranian Art Medal Group held a workshop on the 29th and 30th of December 2022 for 23 homeless children between the ages of 8 and 16 years old. They held art medal training classes at the Karaj Orphan Smile Charity. Tthe spiritual sponsor of this event was Prof. Parviz Tanavoli. In addition, all the material costs were seen to by the Iranian Art Medal Group.
---
''MUSIC ASSOCIATIONS-MEDAL INTERPRETATIONS''
17th INTERNATIONAL MEDALLIC PROJECT 2022 - bulgaria

We all need to maintain our creative fire, especially now in this troubled time. So we focused on musical themes that will help to overcome the growing anxiety and get out of the crisis with more professional experience and new creative results.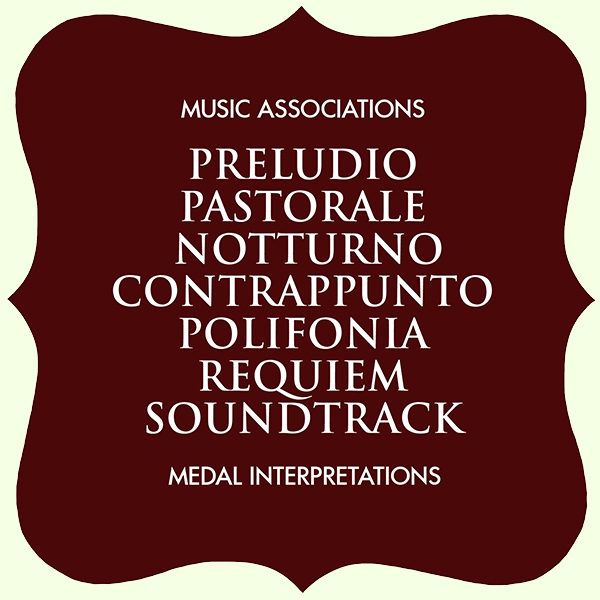 New series of virtual medal exhibitions at the medal studio at the National Academy of Arts in Sofia. This year's medal show includes 7 popular musical terms that participants will interpret: PRELUDIO, PASTORALE, NOTTURNO, CONTRAPPUNTO, POLIFONIA, REQUIEM, SOUNDTRACK. The seven sessions will be presented as before in February, March, April, May, as well as October, November and December.
To participate you need to send a photo of your work (not previously submitted to this project) with a resolution of 300 dpi no later than the 15th day of each exhibition month.
Medallic Sculpture Studio
E-mail: medalstudiosofia@gmail.com
Prof. Bogomil Nikolov
Assist. Prof. PhD Ventsislav Shishkov
---
INTERNATIONAL MEDALLIC PROJECT 2023 - Poland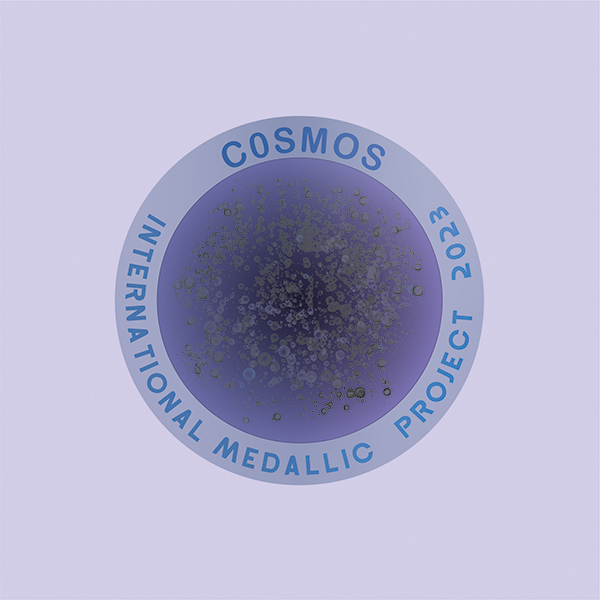 The 15th edition of international medal project called Cosmos is a continuationis of previous international projects entitled: Symbiosisin 2022, Transformation in 2021, Future for Nature in 2020, Borders in 2019, Faith in 2018, Identity in 2017, Civilization in 2016, Heritage in 2015, Bonds in 2014, Freedom in 2013, Signs of the time in 2012, Home in 2011, Time in 2010 and Dialogue in 2009.
We would like to invite your studio and students to join our medal project, which aim is to propagate medal art and exchange our ideas about the contemporary medal art. If you are interested in participating in this year's project, enclosed you will find the rules for the year 2023.
The aim of this project is to propagate medal art, to familiarize students with it and to get known other medal centres in the world. Furthermore, to exchange own experience in this matter, opinions about contemporary medal art and developing further cooperation between foreign universities.
The project is directed to all artistic universities in the world, which teach the medal art and are interested in taking part in medallic projects . The task lasts one academic term and its results are presented at common exhibition.
"Cosmos" is the subject of this year's project. The main question is: how do you see the Cosmos?

This year's project is like previous ones two-stage project: first stage of the project is a presentation on the website. Stage two is an exhibition in Poland.
Conditions
All participants will complete the same subject, which is held during one academic semester. Participants can use any type of materials and techniques they want to accomplish the project. Finally participants prepare photographic documentation of their works, which is sent to the project coordinator.
Please send photos of your works via email [photos format: 300 dpi] on following email address s.p.mikolajczak@gmail.com Also please send a photograph of each participant [signed with his/her name and surname], as well as one joint photograph of all participants and their leading professor [with detailed name of the university and faculty].
Photographic documentation of all works will be presented on websites of each particular studio/academy as well as on professional medal websites. Moreover, one common poster with all works will be produced and sent to participants of the project. Participants may prepare exhibitions in their own academies with posters showing the results of the project (optional).
Moreover this year's project includes a second stage
In the second stage, the entire project will be presented in Poland. The exhibition will be organized by the Faculty of Fine Arts, Nicolaus Copernicus University in Toruń in cooperation with the Museum in Toruń. The selection of works (representative) will be left to professors coordinating the project in each country. The number of works required will be set out after summing up and presenting the project on-line on the 10th of June 2023.
Shipping costs to the Nicolaus Copernicus University in Toruń are covered by participants. Return costs to each country can be borne by the Nicolaus Copernicus University in Toruń. Further informations will appear by e-mail.
Deadline
Project starts the 20th of November 2022.
Deadline to send photos is the 15th of May 2023.
Presentation (on-line) of the project starts on the 10th of June 2023.
Exhibition in Poland: the 8th of September 2023.
Project coordinator Professor Sebastian Mikołajczak
---
"Homage to ..." INTERNATIONAL MEDALLIC PROJECT 2021 - bulgaria
This year the medal studio dedicates its traditional project to 7 celebrities who have worked in different eras and in different fields of culture and arts: Homer, Leonardo, Shakespeare, Beethoven, Picasso, Chaplin, and Marquez. The stature of all these personalities turns the event into an "Infinite Feast" of inspiration.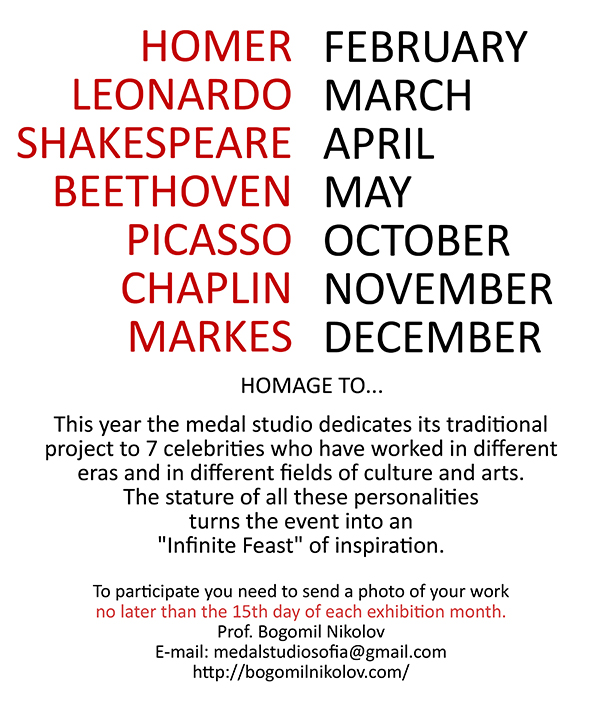 The Medal Sculpture Studio at the Metal Department of the National Academy of Arts in Sofia continues to organize the annual virtual medal project, now in its 16th edition. Shows are held in February, March, April, May, October, November and December. This project is intended for students of the Medal Sculpture Studio, but it is also open to students and teachers from other art schools, as well as freelance artists. The creative communication between the participants provides a unique opportunity to acquaint students with different world trends, concepts and styles and contributes to the promotion of medal art.
For the past 15 years, 105 virtual exhibitions have been organized, at which about 3,800 medals have been presented.In addition to the regular participation of artists from Bulgaria, Portugal, USA, Hungary, Slovakia, Russia, Latvia, The Netherlands, UK, Poland and Spain, we have been joined by artists from Afghanistan, Turkey, Iraq, Japan, China, Australia, New Zealand and others.
To participate you need to send a photo of your work (not previously submitted to this project) with a resolution of 300 dpi no later than the 15th day of each exhibition month.
Medal Sculpture Studio
Prof. Bogomil Nikolov
E-mail: medalstudiosofia@gmail.com
Assist. Prof. Ventsislav Shishkov
E-mail: venci.shishkov@abv.bg