national medal associations
MEDALLIC ART SOCIETY OF CANADA - MASC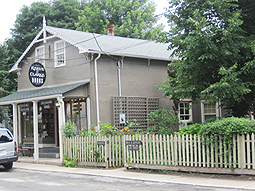 MASC held its Annual General Meeting in the charming little artist village of Glen Williams, Ontario on June 26, 2010. President Paul Petch conducted the meeting and welcomed the members and students who braved the summer rain to support our medal society as it celebrates its 10th anniversary.  A moment of silence was observed in memory of Eileen Millen and Roger Hannam (Ireland) who passed away this year.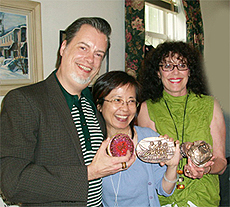 Reports were given by the Executive Council followed by awarding the winners in the Student Medal Competition. Coordinator Pauline Dalby presented 1st Prize winner, Florance Tsai, with $1000, 2nd prize winner, Arei Bierstock, with $300 and 3rd prize winner, Eric Schwarz, with $100. All of the finalists in the competition receive a year's membership to MASC. The winning medal, Tobermory Summer, becomes part of the MASC Student Medal Collection.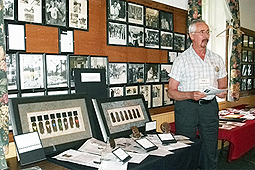 Director Del Newbigging presented a display on his Political Medals including the series Rise Up: Stop the War Against Women. He also showed his new children's book, Robert Rat Has A Problem, which is hot off the press and available on his website (www.delnewbigging.com). Del concluded by talking about the FIDEM Congress in Tampere, Finland which he and his partner, John Carolan, attended. In glowing terms he described the excellent congress and the joy in seeing old friends from around the world as well as the delights of Finland. Members were encouraged to attend the next FIDEM Congress in Glasgow, Scotland in 2012.
President Paul Petch displayed the Student Medal Collection showing the medals, information and photos of the past winners. The student medal competition is very important for the society. MASC's Mission Statement declares that The Medallic Art Society of Canada is dedicated to the creation, promotion, appreciation and education of the fine art of the medal.
"Memorable Medals"a display arranged by Paul Petch showed the medals collected by Dora de Pedery-Hunt upon her many FIDEM congresses. John Carolan had success in identifying some of the medals by questioning people at the FIDEM congress in June. More investigative research will follow.
The meeting closed with an invitation to view the MASC Council members medal exhibition at the Williams Mill Gallery.
Report: Del Newbigging
Photo: John Carolan