social events at the xxxiV congress

10 September 2016
During the final dinner many prizes were given.
The fifteen students who were awarded scholarships to attend the congress received during the dinner party a diploma. They are as follows:

Devon Watson (USA)

Evgenia Ilkova (Bulgaria)

Faustyna Makaruk (Poland)

Hugo Maciel (Portugal)

Kaloyan Georgiev (Bulgaria)

Katarzyna Masny (Poland)

Maya Nikolova (Bulgaria)

Mercedesz Molnár (Hungary)

Mikaela Kamenova (Bulgaria)

Nicola  Kerslake (Great Britain)

Nikoleta Ivanova (Bulgaria)

Petra Kurucz (Hungary)

Raquel Rita (Portugal)

Rita Queiroga (Portugal)

Stanislava Anchova (Bulgaria)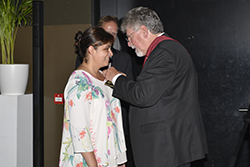 During this congress, the George Cuhaj Award for Distinction was given at two occasions. The first two awardees, Amanullah Haiderzad and Jan Pelsdonk, received them during the American Delegation Party on Tuesday 6 September 2016. George Cuhaj himself could not attend this congress and it was JamesMaloneBeach who acted as awarder. The nomination was: "For her work with FIDEM and medallic art, the Cuhaj Award for Distinction goes to Marie-Astrid Pelsdonk".
The George Cuhaj Prize recognizing promising artists under the age of 30 was awarded to Lindsay Nonhof-Fischer (USA). She did not attend the congress and her prize will be given to her by James MaloneBeach at a later date.
For the second time, The Medallic Sculpture Studio Prize - "One Talent" for young artists given by Prof. Bogomil Nikolov was awarded to Mercedesz Molnár from Hungary.
Prof. Bogomil Nikolov awarded his MSSS Honour Causa award to Oleg Gavrizon from Israel. Since Mr Gavrizon was not present, the prize was handed over to the vice delegate of Israel, Ruth Kaplan.
Prof. Bogomil Nikolov had another prize up his sleeve, for The Youngest Participant in the Projects of the MSSS. It was awarded to Elise Pelsdonk (four and a half years old) for her medal Flying Carpet. She received the medal with a diploma and then walked around every table to let the participants see her award. A very proud receipient!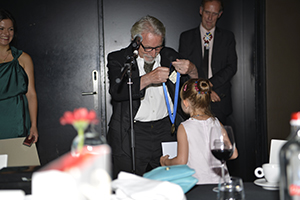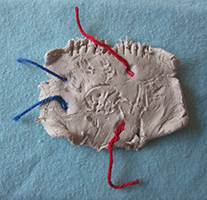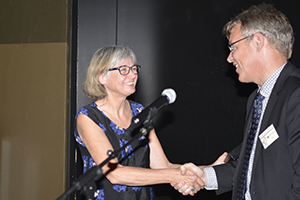 Then it was the turn for the BAMS Struck Medal Award. This is a new award presented by BAMS and medal manufacturer Thomas Fattorini who have come together to create an annual international award for struck medals. The BAMS Struck Medal Award takes the form of a medal struck in sterling silver bearing a posthumous portrait of Thomas Peter Fattorini by Ian Rank-Broadley. It is intended to encourage artists and designers around the world to engage with struck medals and to encourage mints, both private and public, to produce struck medals of high artistic quality. Gregory Fattorini handed the medal over to the Norwegian medal artist, Ingrid Austlid Rise.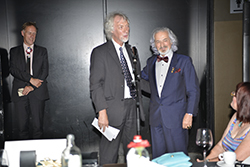 The Paul Huybrechts prize "Art Valley 51" was awarded to Amanullah Haiderzad for his work with a museum in Kabul. A collection of historical Belgian medals will be sent to his museum. A young Chinese artist, Deng ShanShan received this award and the 3rd repicipient was Monique Jobin, in the form of a trip to Greece.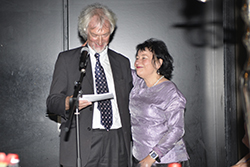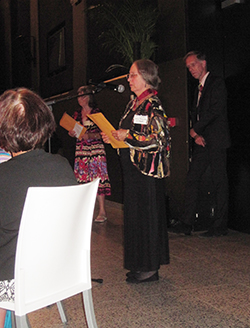 Two new American awards were presented. The first one by the US delegate Jeanne Stevens-Sollman and it is the Jason S. Pollack Memorial Award for Innovative Techniques in Medallic Art. This award of 500€ was given by his wife to honor Jason's commitment to unique creativity in the art of the medal. He has supported this idea for many years by gifting and encouraging the younger generation of medallists. The awardee for 2016 is Girts Burvis of Latvia for his medal "Sunrise".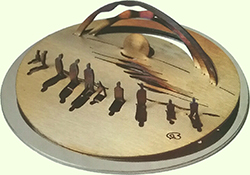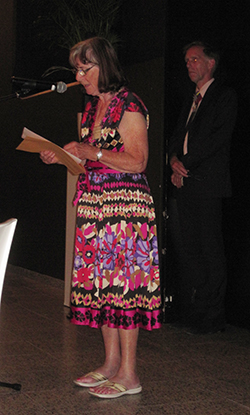 The second new American award was presented by Anne-Lise Deeringand is the Silvia Perle Memorial Award for Creative Use in Material. The Hungarian artist Edit Rácz received her prize via the delegate Viràg Szabó.
The FIDEM at 70 medal was awarded to Paul Hyubrecht, the Province of Namur, Anthony Demey and Bob Autrique for their work in making this congress possible.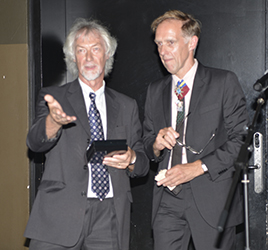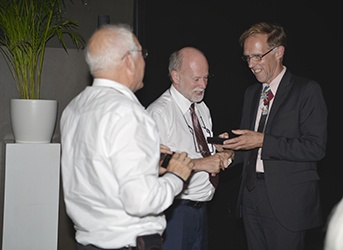 Created for FIDEM by Prof. Bogomil Nikolov was the new prize entitled Pro Liberalitate Tua. This prize is ment to be awarded to individuals and institutions which have helped FIDEM financially. This time it was awarded to the University Museum of Bergen and received by Henrik van Achen.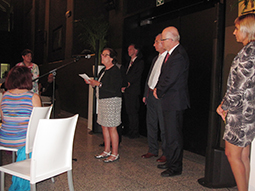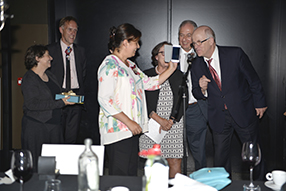 The last prize was the FIDEM Grand Prix. The jury had been selected during the Executive/Consultative Committee meeting and was composed as follows: Maria Rosa Figueiredo (Portugal), Javier Gimeno (Spain) and Ilkka Voionmaa (Finland). The jury had a difficult task in chosing a possible winner. They soon came down with a couple of names but settled for the one name they thought deserved it, namely, Ron Dutton (Great Britain). [Their motivation will soon be published]. Ron Dutton could not attend but he could follow the ceremony by phone connection. The delegate to Great-Britain, Irene Gunston accepted the prize - which consists of a cheque of 2,000€, a diploma and a medal made by the previous Grand Prix winner, in this case Irina Suvorona (Russia) - in his absence.
Go back to main page Social Events