WELCOME TO FIDEm
In memoriam
Sylvia Perle (1938-2016)
---
XXXIV Congress: ghent (belgium) - 6-11 September 2016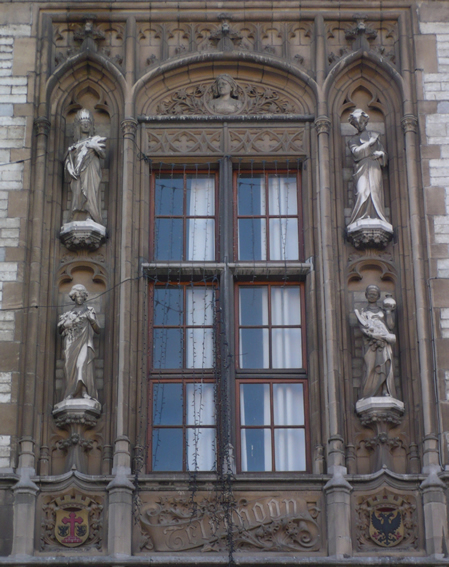 Photo: "The Four Continents", window of a historical building in Ghent (M. Pelsdonk)
---

XXXIV Congress: exhibition catalogue
The introduction text/overwiev of the current situation on medallic activity in each country, which will be published in the exhibition catalogue, should be of a maximum of 500 words and sent by the delegates/vice-delegates no later than 10 February 2016 to Paul Huybrechts (e-mail: medailles@telenet.be).

---
call for papers - dead-line 11 march 2016
Proposals for papers to be given at the XXXIV FIDEM congress are invited on all aspects of medallic art, both historical and contemporary. The theme of the principal sequence of papers will be: Artists and foundries / artists and mints.
---

XXXIV CONGREss: scholarships/bursaries for young medal artist
Bursaries of up to 1,000 euro are available to help artists who will be under 30 on 6 September 2016 to attend the FIDEM congress in Ghent. Application: CLOSED.

---

medals for the XXXIV congress exhibition submitted by non-fidem members
Non-FIDEM members may exhibit at the discretion of the national Delegates, but such artists are charged a fee (currently 20€ + 20€ for the catalogue), which is collected by the national Delegates and forwarded to the FIDEM Treasurer. Please note that these payments can be made via our web-shop and the dead-line has been set to 31 January 2016.
---

the WEBSITE
If pages are not running properly, if you have news or or if you have other suggestions for the website, contact the webmaster, Marie-Astrid Pelsdonk, on the following e-mail: fidem_webmaster@yahoo.com