xxxV art medal congress - ottawa
ottawa, canada - 29 may until 2 june 2017
Wednesday 30 May was the grand opening day of the XXXV FIDEM congress. Everything started at 9 o'clock in the morning with a very special ceremony held in the Theatre of the Canadian Museum of Nature. It was acknowledged that the land on which we were gather is the traditional unceded territory of the Algonquin Anishinaabe People.
An elder, Grandmother Monique Renaud, a Métis of Algonquin and Huron- Wendat ancestry, conducted a smudging ceremony and gave an opening prayer.
The Mayor of the City of Ottawa, His Worship Jim Watson, spoke to the audience and welcomed FIDEM to the City of Ottawa. He was followed by Philip Attwood who gave a short history of FIDEM and brought up the fact that this was the first congress ever in Canada.
It was then the turn to Michael Groves, Director of the Development & Applied Technology of the R&D team for the Royal Canadian Mint to speak. He officially presented the Congress medal. The medal had been a well kept secret. It was not included in the congress bag as it usually is. The designer of the XXXV FIDEM Congress medal is Susan Taylor.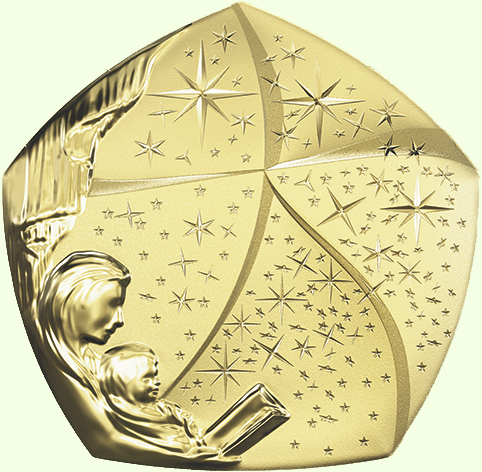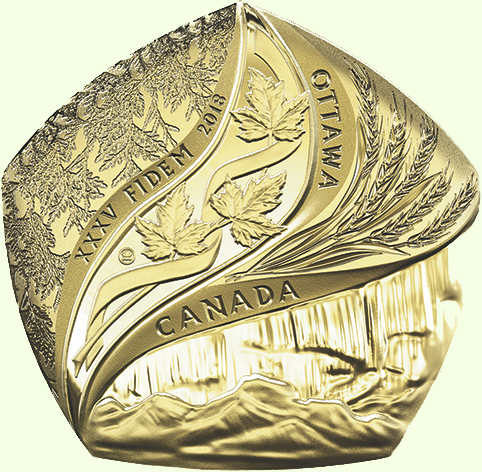 "Central to the reverse design are three maple leaves intertwined with a flowing sash. The maple leaves represent Canada bounded by water on three sides by the Pacific, Arctic, and Atlantic Oceans. The flowing sash represents Canada's fresh water lakes and rivers. The wheat design represents Canada's strong agricultural roots and the eastern cedar motif on the left hand side honours the land around the National Capital Region where the FIDEM XXXV Conference/Exhibit is taking place. The Rocky Mountains and the Aurora Borealis symbolizes the spectacular opportunities Canada has to offer to those who choose to make this land their home.

On the obverse side the Aurora Borealis flows from the reverse side. The underlying five sided figure moving forward from behind the Aurora Borealis evokes Canada's commitment to ensuring a safe and caring community. Sitting beneath the stars, a female figure reading to a child represents the importance of education so that we have a better understanding of the world around us." (FIDEM Canada XXXV 2018, Exhibition Catalogue, p. 4)
The official opening of the congress was followed by two plenary sessions and in the afternoon the lectures started. In the evening the official opening of the exhibition was held.