in memoriam - 2015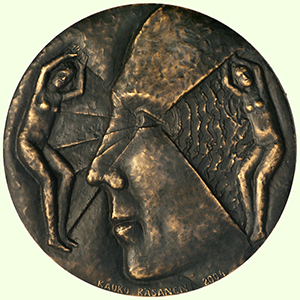 The great Finnish sculptor and medallist, Kauko Räsänen has passed away. He is known for his medals of abstract plasticity and multiple part medals, like the one he created for the XXIIFIDEM congress in Helsinki in 1990.
He was a member of FIDEM for many year and participated for the first time in 1955 with the reverse medal for the 15th Olympic Games in Helsinki (1951). He was a great producer of medals and in 2011 a book with his medallic art was written by Hackl and Klose. His last FIDEM exhibition was the one in Colorado Springs in 2007.
---
E. Bud Wertheim (1926-2015)
I was reached two days ago by the sad message that American sculptor and medalist Bud Wertheim had passed away peacefully at home on 15th June.
Bud was known to be a man of many talents. His website, which he named Bud's backyard was a spot where he described and showed his many skills. His introduction words to his main page was:
"The Bud in this case is me, Bud Wertheim, a sculptor by trade and puppeteer, amateur radio operator, astronomer, harper, banjo picker, stamp carver and a few other avocational pursuits as well."
Educated at the Grand Chaumière and Montmartre Academies in Paris, he was a Life Member of the Art Students League and a graduate of New York University. Initially known for large abstract sheet metal works, Bud's diverse commissions included residential and commercial spaces from office buildings to synagogues. His work was included in the Empire State Plaza Art Collection and various museums including an appointment as sculptor-in-residence at the Greenville SC Museum Art School. He had recently completed a portrait of Judge Lawrence Cooke which is on permanent exhibit at the Sullivan County (NY) Courthouse. Bud's work evolved into casting in various metals and at the end of his career his designs and commissions were focused on art medals. (obituary at the Colonial Bryant Funeral Homes)

Bud was a member of FIDEM for many years and exhibited during twelve congresses. The first time was in Stockholm in 1985, the last in Tampere in 2010. Last time I spoke with him he said he was planning on entering a medal for the 2016 year's congress. I was very happy to hear this. Sadly this will now not happen.

In many ways he was a Renaissance man and even made a portrait medal of himself inspired by the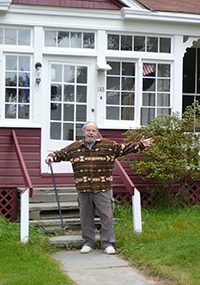 medal by Pisanello. The cast medal result was entitled: E. Budus Medalus. He used a photo of himself which he combined with a scan of the 15th century medal of Pisanello "to make a relief sculpture of myself as him, sort of. The relief is cast bronze, 5 1/4 inches in diameter. It was scaled to size and then transferred as a printout to the clay." On the reverse he depicted the covered bridge close to his house in Livingston Manor, NY. "I live next to this covered bridge, love it!"

Bud had a lot of talents but beyond these, he was a man with a wonderful sense of humour, gentle, caring and a very dear and good friend of mine whom I will miss immensly.


Marie-Astrid Pelsdonk
General Secretary/Webmaster - 18/6/2015
Photo: Bud at the foundry with his latest torso sculpture and Bud at his home (September 2007)
---
felicity powell (1961-2015)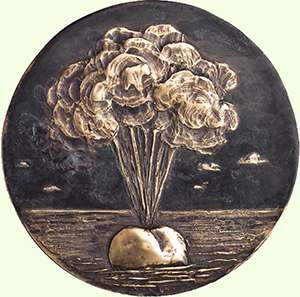 The artist and curator Felicity Powell has died aged 53 of cancer. She worked in many mediums: she trained as a sculptor, and made works in wax, film, and glass, with symbolic and narrative elements. She exhibited in several FIDEM congresses.
Photo: Hot air, 2009
---
MĀRA KALNIŅA (1948-2015)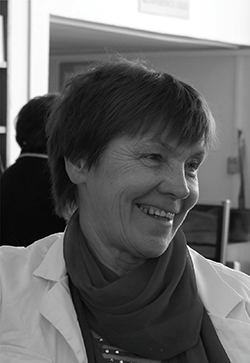 Mara Kalnina was a member of FIDEM since 2010 and exhibited in Sofia in 2014. She had been a member of Latvian Art Medal Club and a member of Latvian Artists Union. She was an associate professor of the Academy of Arts in Latvia, Branch Latgale.
Jānis Strupulis
FIDEM national delegate for Latvia
---
Helder Batista (1932-2015)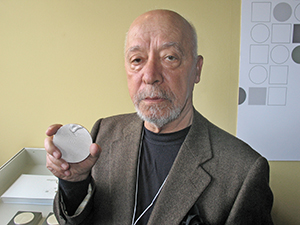 Born in Vendas Novas, Portugal, Helder Batista studied first at the Casa Pia School, a prestigious institution founded in 1780 which provided housing, education and training in the arts for students with limited financial resources. Afterwards he studied Sculpture at the Fine Arts School, Lisbon University, where he became later on Professor, a position he held during 33 years.

Helder Batista had a long and important career as sculptor and medal artist. I consider him as the best Portuguese medal artist ever.

As a FIDEM member, he exhibited at all FIDEM Congresses since 1979 (Lisbon) until 2014 (Sofia). He was awarded in Lisbon (1979), London (1992), Budapest (1994) and finally in Colorado Springs, USA (2007), this time with the FIDEM Grand Prix.

As a member of the American Numismatic Society, a retrospective exhibition of his work was held in New York (1998) under the ANS patronage. In 1999 he received the J. Stanford Saltus Award, considered the highest award in the field of medal sculpture.

The last retrospective exhibition of his medal work was organized by the Lisbon Mint in January 2012. For the catalogue of the show Helder Batista asked to some fellow sculptors and friends that had closely followed his career to choose one of his medals and write a short text about it. I was one of them. I chose a fascinating medal triptych, entitled "Another dawn" (2011) made of brass and acrylic, and here is what I wrote: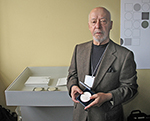 "What do I see here? A fantastic ability to invent, by revisiting the models of the past and translating them into a medal. Helder Batista possesses the effervescent imagination of a young creator who is constantly in search of new experiences and new solutions for an art that many believe to be outmoded. When I look at this medal in the shape of a triptych I find it moving. Closed on itself, it is traversed by two rows of barbed wire restricting any ambition for freedom. But when I open it up, all of a sudden hope awakens of another dawn: the rigging on the central panel extending to the side panels, engraved with a laser on black acrylic, follows a winding line that appears to be about to break. Like the medieval ivory triptychs replete with biblical scenes that served to instruct the devout, this acrylic and brass triptych made into a medal, with its aura of hope foretold, is certainly an intimate object that is destined to inspire private devotion."
Maria Rosa Figueiredo
Portrait photo: Gabriel Hildebrand, 2004
---
RAMON FERRAN (1927-2015)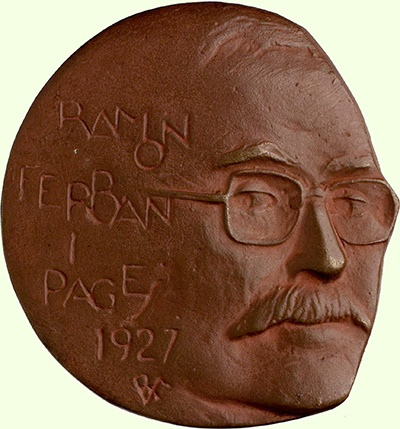 Ramon Ferran, sculpteur, graveur et médailleur, est décédé le 2 janvier 2015 dans sa ville natale de Reus (Tarragone, Espagne).
Passionné sincère et infatigable de la médaille, grand ami de la FIDEM, Ferran a participé à toutes les expositions FIDEM de 1959 à 2014, littéralement jusqu'à son dernier souffle. Ses médailles ont été toujours appréciées par son intensité expressive, l'esprit sincère et positif de son message ou sa modernité dynamique toujours au service d'un engagement sincère pour les valeurs profondément humains.
Ferran a fait partie de la pléiade d'artistes qui, aux années 50-60, ont renouvelé l'art espagnol de la médaille sous l'égide, à l'époque, de la Fábrica Nacional de Moneda y Timbre. Depuis lors la médaille a été support privilégié de son expression artistique. La médaille, en particulier la médaille espagnole, perd sans doute avec lui un de ses grands valeurs.
Javier Gimeno
---

RAMON FERRAN (1927-2015)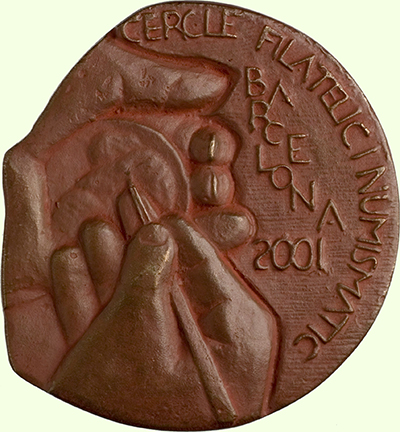 Ramon Ferran, sculptor, engraver and medallist, passed away on 2nd January 2015 in Reus, Tarragona, Spain.
Passionate tirelessly for the medal as artistic expression, active friend of FIDEM, Ferran participated in all FIDEM exhibitions from 1959 to the last one in 2014. His medals have always been appreciate by their intense, true and positive message as well as their dynamic modernity always in the service of a genuine commitment to deeply human values.
Ferran started his medallic work in the fifties and sixties under the umbrella of Fábrica Nacional de Moneda y Timbre, Madrid Mint, at the time the main booster of the Spanish medal artistic renovation. Since then medal has been his privileged means of artistic expression. The medal looses with him one of its key values.
Javier Gimeno